Chase Sapphire Preferred Card
Chase Sapphire Reserve Card
The hottest new credit card over the past year has been the Chase Sapphire Reserve. It's launched as a Visa Infinite card, the third active one in the United States. It offers a trifecta in terms of bonus, strength of earning, and card benefits.
The Sapphire Reserve Card offers 50,000 points after $4000 spend within 3 months as a signup bonus. It earns 3 points per dollar on travel and dining. It comes with a $300 travel credit each year, and a Priority Pass Select card with unlimited visits and guests. The card's annual fee is $450.
I've long been a proponent of the Chase Sapphire Preferred Card. It offers 50,000 points after $4000 spend within 3 months as a signup bonus. And you get 5000 more points for adding a no fee authorized user and making a purchase in that same period. The card earns 2 points per dollar on travel and dining. The card's annual fee is $0 the first year then $95.

Singapore Airlines Business Class
Points from both cards transfer to miles and points.
Airlines: United, British Airways, Korean, Singapore, Virgin Atlantic, Air France KLM, Southwest

Hotels: Hyatt, Marriott, Ritz-Carlton, IHG Rewards Club
I've written guides to some of the very best tricks for:


Park Hyatt Hadahaa Maldives
You can also redeem points for paid travel through the Chase portal. Chase Sapphire Preferred's points are worth 1.25 cents apiece. Chase Sapphire Reserve's points are worth 1.5 cents apiece.
Both cards offer primary collision coverage and significant protections.
Chase Sapphire Reserve is the strongest all-around card right now for points earning. Chase Sapphire Preferred remains a great offer. There are two reasons to consider the Chase Sapphire Preferred Card, at least to get that card first:
Chase Sapphire Reserve is a Visa Infinite, while Sapphire Preferred is a Visa Signature. So you're likely to need to be able to be approved for a higher credit limit (e.g. $10,000 vs $5000) to get the Reserve.
Chase Sapphire Reserve has the much higher annual fee ($450 vs $0 the first year then $95). So while I think Sapphire Reserve's fee is very much worth it, start with Sapphire Preferred if you have any doubt at all.
If you earn points with your Chase Sapphire Preferred and get a Reserve later, you can transfer your points from one to the other — and those points gain the higher value that Reserve offers redeeming points towards paid travel through Chase's portal.
Bear in mind that Chase won't let you just sign up for one and then the other. You can get a Sapphire Preferred, and something I've had family members do is product change to the no annual fee Freedom Unlimited card that earns 1.5 points per dollar on all spending. You're no longer a Sapphire cardmember, so eligible for the bonus on Sapphire Reserve, and you can transfer your current points balance to Sapphire Reserve.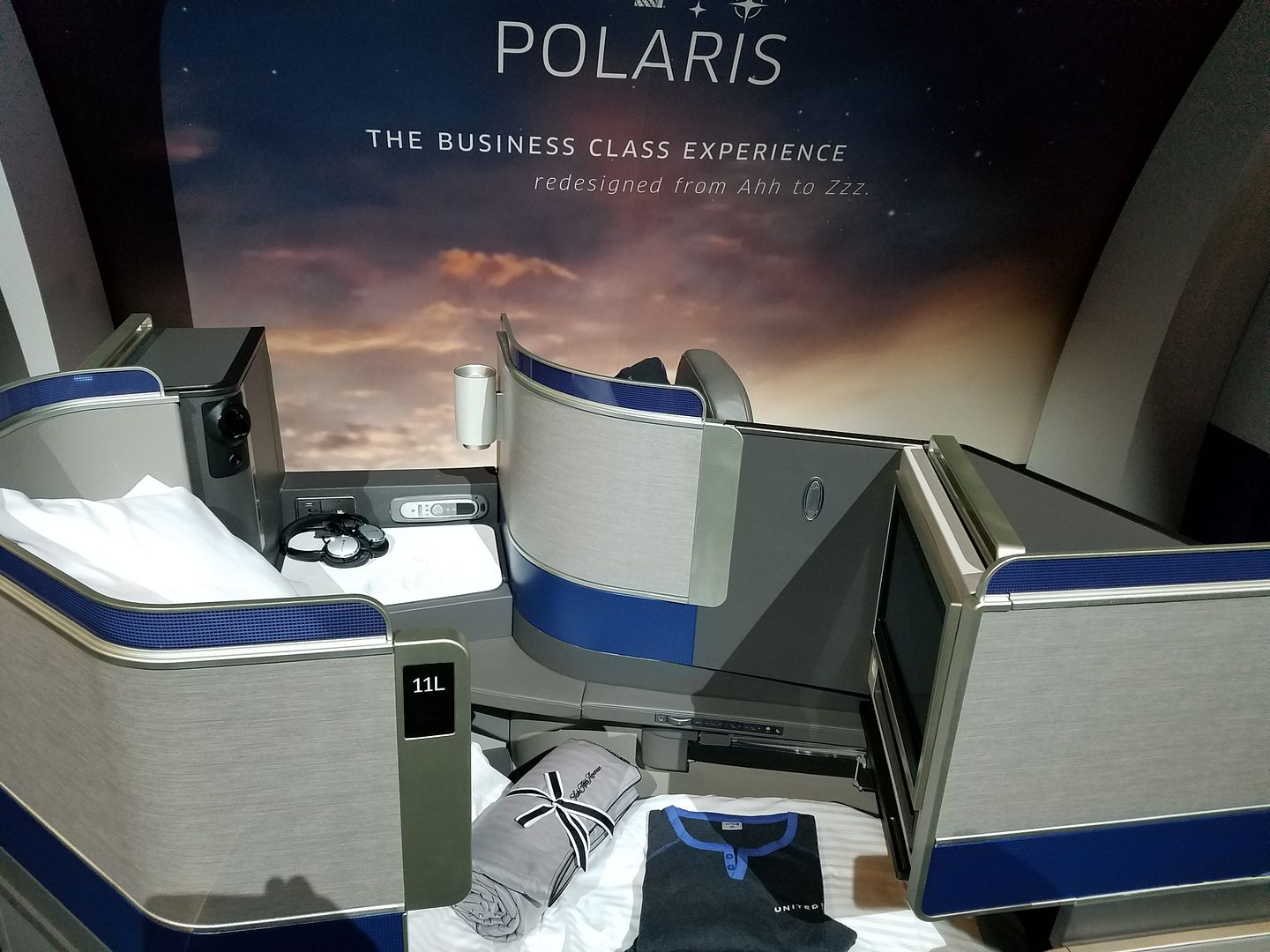 United's New Polaris Business Class
Both cards appear to be subject to the '5/24 guideline', many people (though not all) find Chase unwilling to give these cards to folks who have had 5 or more new cards in the past 24 months. So take that into consideration.
Sapphire Preferred has a bigger signup bonus when you factor in the 5000 points for a no fee authorized user.
Sapphire Reserve though earns triple points on travel and dining. But someone just getting involved in the hobby is a hard sell on a $450 annual fee card (even with the $300 travel credit). They should get Sapphire Preferred first, get sold on it, and get Sapphire Reserve later (someone new to the hobby won't have had too many new cards in the last 24 months).
Based on e-mails and correspondence with readers it's pretty clear most readers don't have that many new cards, but a minority certainly do.
If you're over the '5/24' level consider the British Airways Visa Signature Card because reports I've seen have been that it isn't currently subject to these limits.
The card offers 50,000 bonus Avios after you spend $3,000 on purchases within the first 3 months from account opening. Earn an additional 25,000 bonus Avios after you spend $10,000 total on purchases within your first year of account opening for a total of 75,000 bonus Avios.
And if you spend $30,000 in a calendar year to earn a Travel Together Ticket good for two years which can double the value of your Avios on a single redemption for 2 people.

British Airways First Class
Ultimately my advice is to start with the Chase Sapphire Preferred Card. It's a great card that earns valuable points quickly. Once you redeem those points successfully you'll have proven the value and be ready to invest in a $450 fee card that earns points even more quickly.
Chase Sapphire Preferred Card
Chase Sapphire Reserve Card
Continue reading Sapphire Preferred vs Reserve: Which Should You Get?…