As I've mentioned many times before on this blog, Plastiq is one of the best ways to pay your rent and bills to earn points (even though the really lucrative options for doing this are dwindling).
Pay No Plastiq Fee When You Use Masterpass – But You Have To Hurry!
As Plastiq usually does several times a year, they are currently running another great promotion, this time with Masterpass.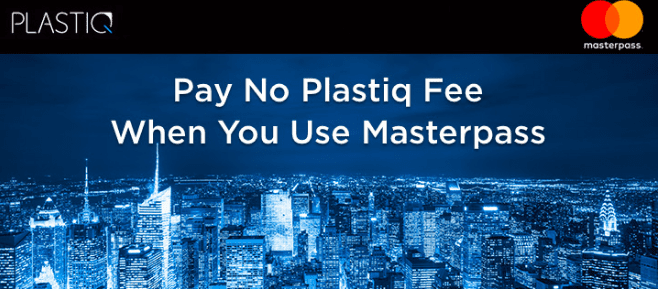 The Plastiq and Masterpass Offer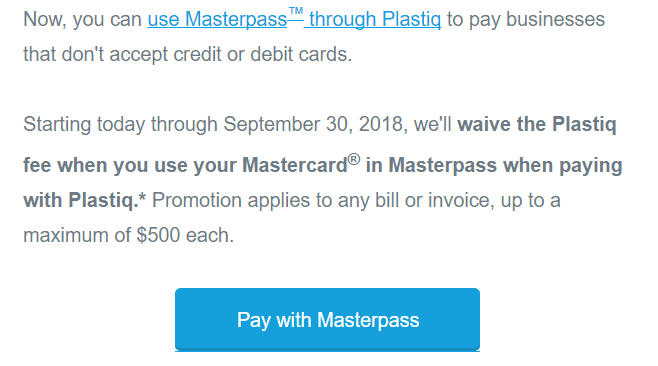 Why This Is A Great Offer
As you can see, this offer waives the normal 2.5% fee, up to $500, when you schedule and pay with Masterpass before September 30, 2018. This means you can save up to $12.50 a month on fees.
How It Works
To take advantage of this offer, you'll need a Plastiq account and an eligible MasterCard that you can register with the Masterpass online wallet.
First, you must login to your Plastiq account, and go to the "card drawer" area. You'll then need to click on "add a card" and then click on "more ways to add a card" in the top left-hand of the screen. Finally, click on the Masterpass link.
Why You Need To Hurry
Several bloggers, including Doctor of Credit, are reporting receiving emails from Plastiq stating this original offer is ending early due to its popularity.
Here is the body of this email:
Due to the high demand for our latest promotion, conducted in partnership with Mastercard, we wanted to give you advance notice of an upcoming update. Starting June 1, 2018, the promotion will apply to any bill or invoice, up to a maximum of $250 each, instead of $500.*

If you've already scheduled payments with this promotion, we will still honor the promotional fee applied to those payments. But please note that editing these scheduled payments will result in a loss of the promotional fee.

If you haven't taken advantage of this promotion yet, this is your time to do so! Don't forget to make sure the payment is delivered by September 30, 2018 to qualify.
The Bottom Line: Pay No Plastiq Fee When You Use Masterpass – But You Have To Hurry!
You can still take advantage of this offer if you schedule and/or pay eligible bills by May 31, 2018 – so hurry!
If not, there is still an augmented offer for no fees on bills up to $250, but there's a good chance even that offer won't last long. Your best bet is to get moving now before May 31, 2018.
Cheers!
The [Original] Terms and Conditions]:

The post Pay No Plastiq Fee When You Use Masterpass – But You Have To Hurry! appeared first on Flying High On Points.